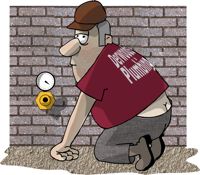 We solved our
recent toilet paper crisis
by running out to buy a package of 60 rolls of the stuff.
And just in the nick of time too, since the next day was yet another national holiday, and today is Sunday (and you guessed it, nothing is open).
If you're in dire need of, say, condoms, you can always go to the on-duty pharmacy (there are always several designated ones for each Sunday and holiday), but they don't look too kindly on people coming in at night for banal stuff like toilet paper. So, I'm glad we made it to Friday, and were able to stock up for the weekend (okay, 60 rolls will last slightly longer than that, but not much).
When I got our jumbo package home I saw a coupon on the side, saying I could be the lucky winner of 6,000 euros. All I have to do is send it in with the proof of purchase and wait for the drawing. Then another thing caught my eye; if I include a letter with a funny bathroom story, those 6,000 euros could become 12,000.
Wow!
My mind raced feverishly, as it tends to do when faced with the prospect of winning 12,000 euros, and I racked my brain for a funny bathroom story. Just think of all the toilet paper I could buy with that money. Unfortunately, the funniest thing that has ever happened to me in the bathroom is that one day my cat (literally) scared the shit out of me, when he opened the door. I was alone in the house and I had closed (but not locked) the door, when suddenly I saw the door handle moving. Someone was in the house and trying to open the bathroom door! And I wasn't exactly in a good position to defend myself. I was debating whether or not to scream, when the cat pushed open the door with his face. I could understand that he didn't like being alone, but this was ridiculous.
Definitely not worth 12,000 euros.
Other stories come to mind, but these are ones that happened to other people. One of my favorites is this one about a doctor who lived in the town where my husband grew up. It seems the pipe under the kitchen sink was leaking, and the man called for the plumber, but since the plumber took forever to show up, he decided to try and fix the leak himself. His wife left him working under the sink, and went out to run some errands. When she came home she saw he was still working, and she came up behind him and reached down to give him a tickle, and said, "¿De quien son estos huevitos?" (Whose little balls are these?). The guy bolted upright, and banged his head on the underside of the counter top, and then the woman saw that it wasn't her husband who she'd just felt up. It seems that while she was out, the plumber arrived and the husband let him continue where he'd left off. The poor plumber ended up with a skull fracture, the story was all over town in a matter of hours, and the doctor and his wife had to move away to escape from all the malicious gossip and funny looks. It's a good story (although I'm sure those involved didn't think so), but it has nothing to do with bathrooms, so that won't do.
So, since this contest is only open to those living in Spain, I'm asking you to share your funny bathroom stories with me so I can send one of them in, and if I win I'll share the prize. What's the funniest thing that's ever happened to you in the bathroom?
* I have just come back from the bathroom, where I entertained myself by reading the details of the contest, and I noticed that it was over in December 2006. Damn! There goes my chance at winning 12,000 euros. But I'm always ready to listen to a funny story, bathroom or otherwise, so tell away.... And don't forget to visit
Central Snark
, where you won't win 12,000 euros, but you'll get all the laughs you could ever want.